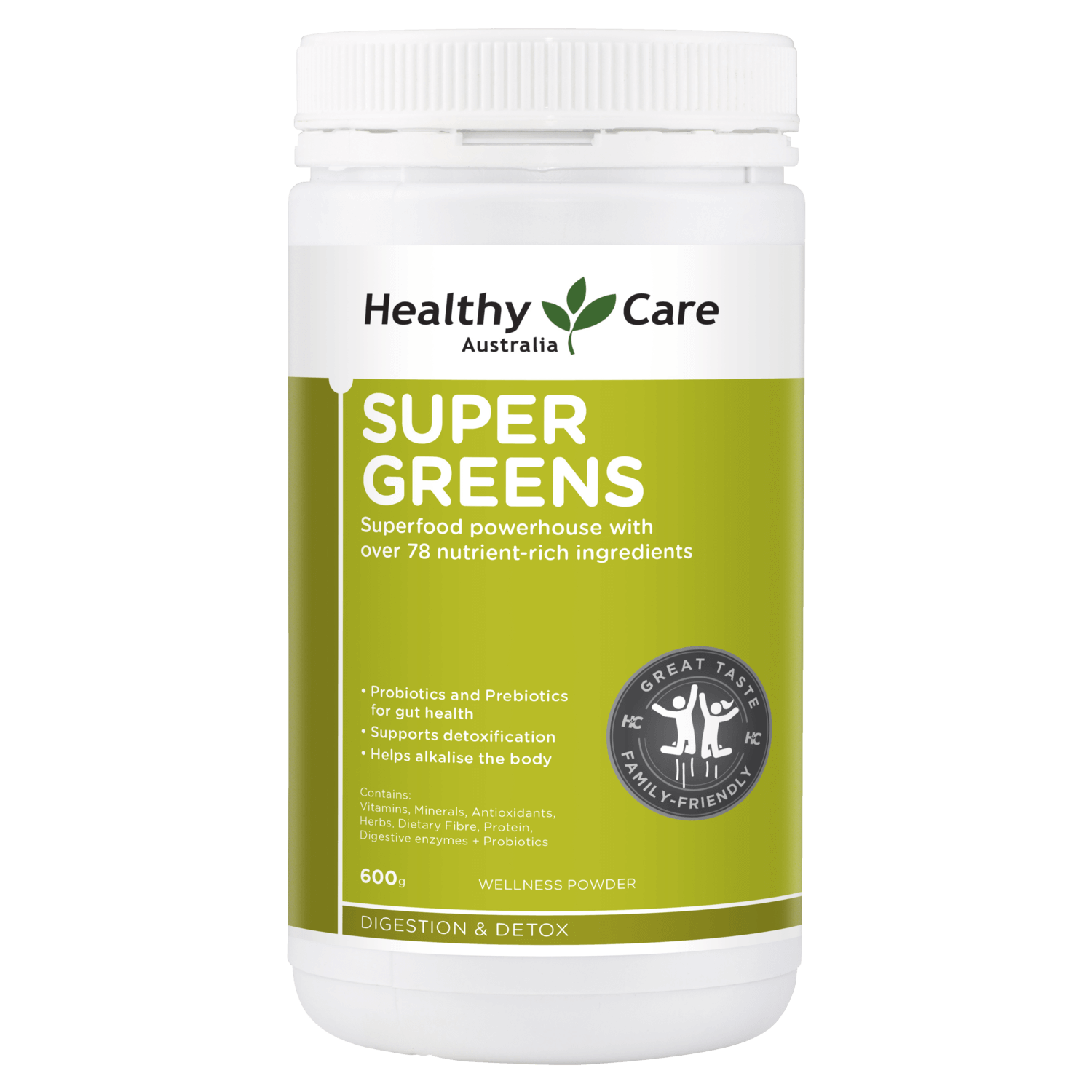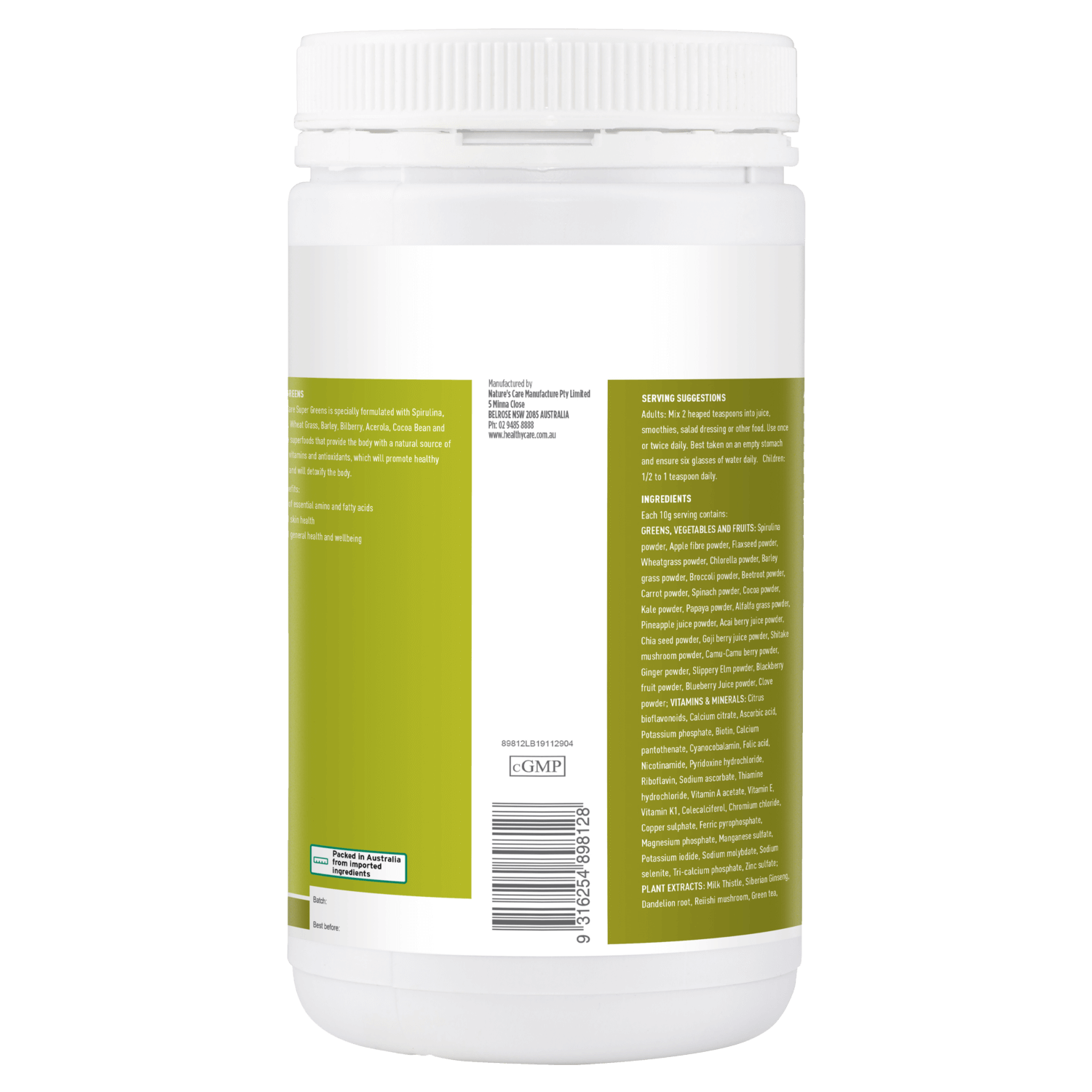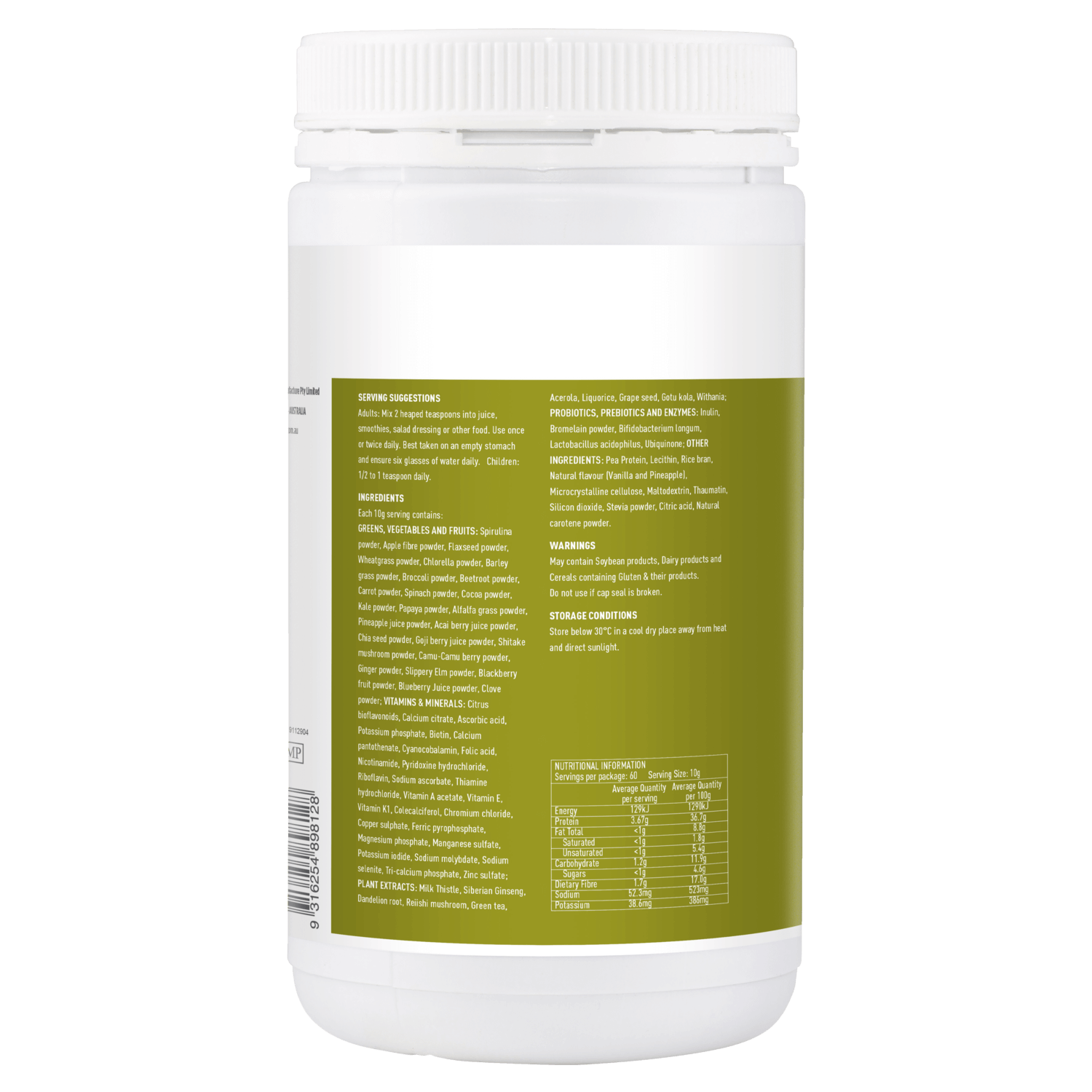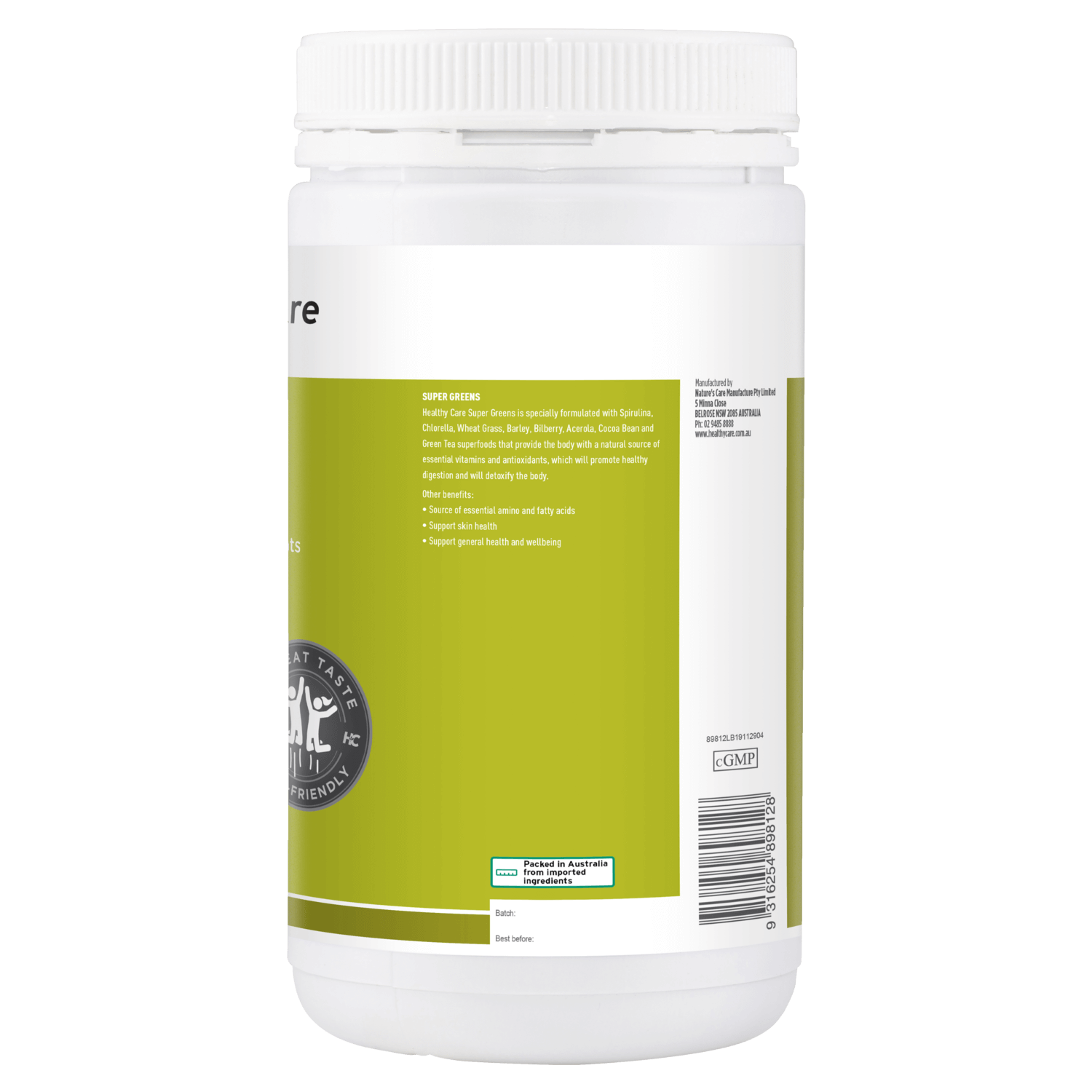 Healthy Care Super Greens 600g
Get additional 15% discount when you checkout at least 3 items and 20% if 5 items! (any product).
REWARDS - 1 point for every $1 spend
Healthy Care Super Greens is specially formulated with Spirulina, Chlorella, Wheat Grass, Barley, Bilberry, Acerola, Cocoa Bean and Green Tea superfoods that provide the body with a natural source of essential vitamins and antioxidants, which will promote healthy digestion and will detoxify the body.
Greens, Vegetables and Fruits: Spirulina powder, Apple fibre powder, Flaxseed powder, Wheatgrass powder, Chlorella powder, Barley grass powder, Broccoli powder, Beetroot powder, Carrot powder, Spinach powder, Cocoa powder, Kale powder, Papaya powder, Alfalfa grass powder, Pineapple juice powder, Acai berry juice powder, Chia seed powder, Goji berry juice powder, Shitake mushroom powder, Camu-Camu berry powder, Ginger powder, Slippery Elm powder, Blackberry fruit powder, Blueberry Juice powder, Clove powder; Vitamins & Minerals: Citrus bioflavonoids, Calcium citrate, Ascorbic acid, Potassium phosphate, Biotin, Calcium pantothenate, Cyanocobalamin, Folic acid, Nicotinamide, Pyridoxine hydrochloride, Riboflavin, Sodium ascorbate, Thiamine hydrochloride, Vitamin A acetate, Vitamin E, Vitamin K1, Colecalciferol, Chromium chloride, Copper sulphate, Ferric pyrophosphate, Magnesium phosphate, Manganese sulfate, Potassium iodide, Sodium molybdate, Sodium selenite, Tri-calcium phosphate, Zinc sulfate; PLANT EXTRACTS: Milk Thistle, Siberian Ginseng, Dandelion root, Reiishi mushroom, Green tea, Acerola, Liquorice, Grape seed, Gotu kola, Withania; Probiotics, Prebiotics AND Enzymes: Inulin, Bromelain powder, Bifidobacterium longum, Lactobacillus acidophilus, Ubiquinone; Other ingredients: Pea Protein, Lecithin, Rice bran, Natural flavour (Vanilla and Pineapple), Microcrystalline cellulose, Maltodextrin, Thaumatin, Silicon dioxide, Stevia powder, Citric acid, Natural carotene powder.
Contains: Vitamins, Minerals, Antioxidants, Herbs, Dietary Fibre, protein. Digestive enzymes + Probiotics.

Allergen May Be Present: Cereals | Dairy | Gluten | Soybean
Serving suggestions
Adults: Mix 2 heaped teaspoons into juice, smoothies, salad dressing or other food. Use once or twice daily. Best taken on an empty stomach and ensure six glasses of water daily.
Children: 1/2 to 1 teaspoon daily.


Disclaimer: Always read the label and follow the directions for use.  
Store below 30°C in a dry place away from heat and direct sunlight.
May contain Soybean products, Dairy products and Cereals containing Gluten & their products. Do not use if cap seal is broken.
Standard Parcel Post
We aim to dispatch standard parcel post orders within 48 hours. The estimated delivery times are:
- NSW, ACT: 2 - 4 working days.
- QLD, VIC, SA: 5 - 6 working days.
- All of WA, Tasmania and regional areas of all other States: 7 - 10 working days.

Express Post
Express orders will be dispatched within 24 hours. The estimated delivery times are:
- NSW, ACT: 1-2 working days.
- QLD, VIC, SA: 2-3 working days.
- All of WA, Tasmania and regional areas of all other States: 5-6 working days

For orders placed over a weekend, they will be sent out over the following business days (Monday-Friday).