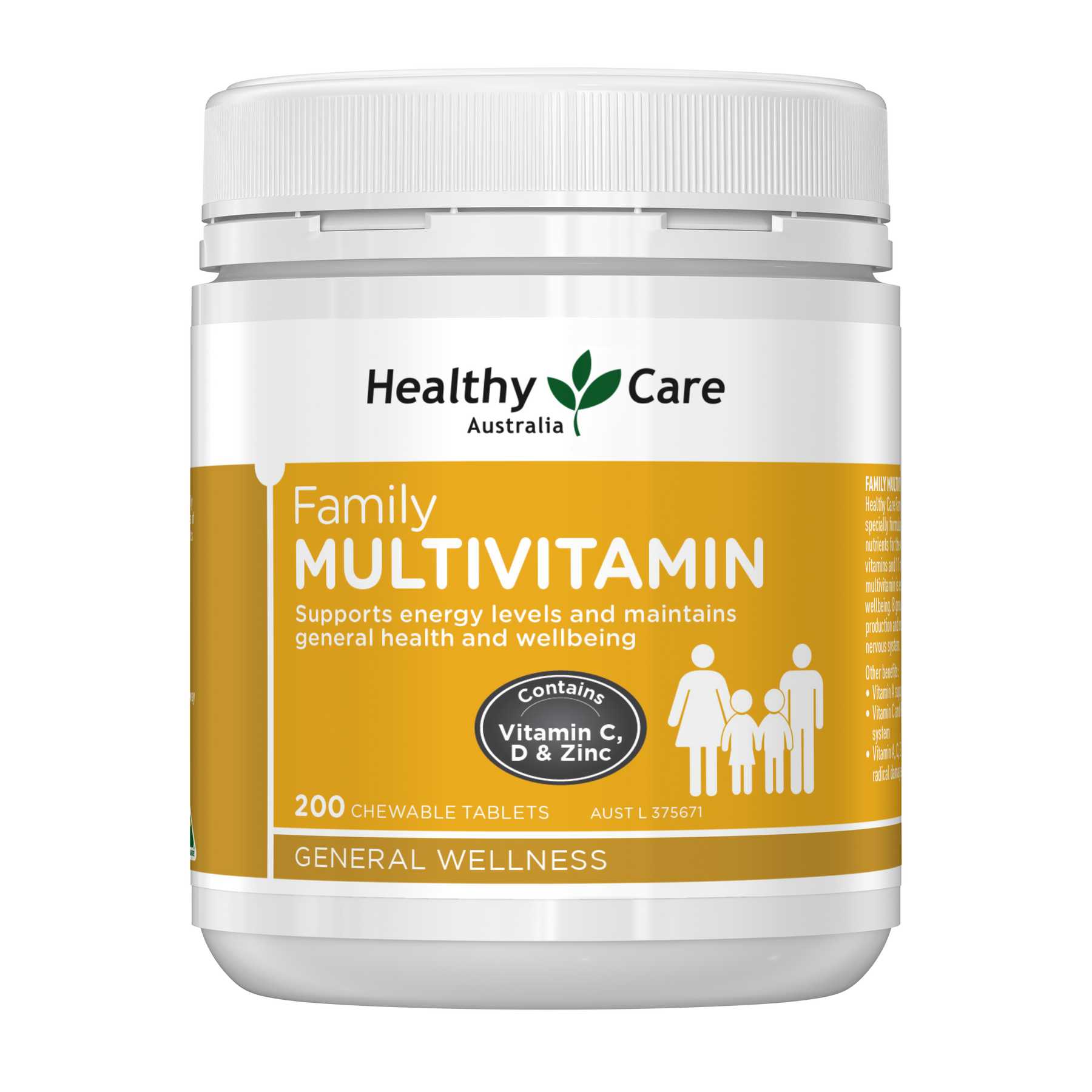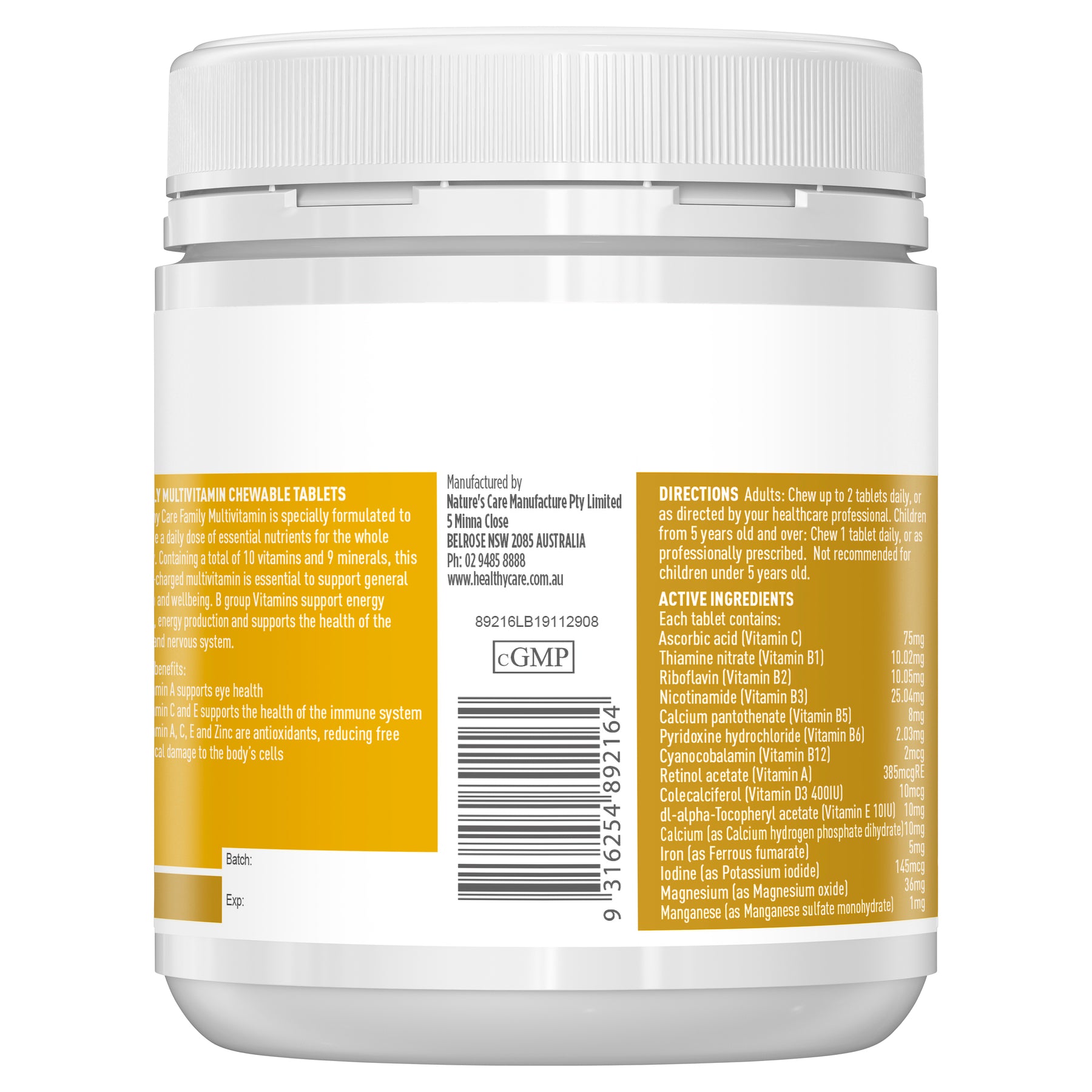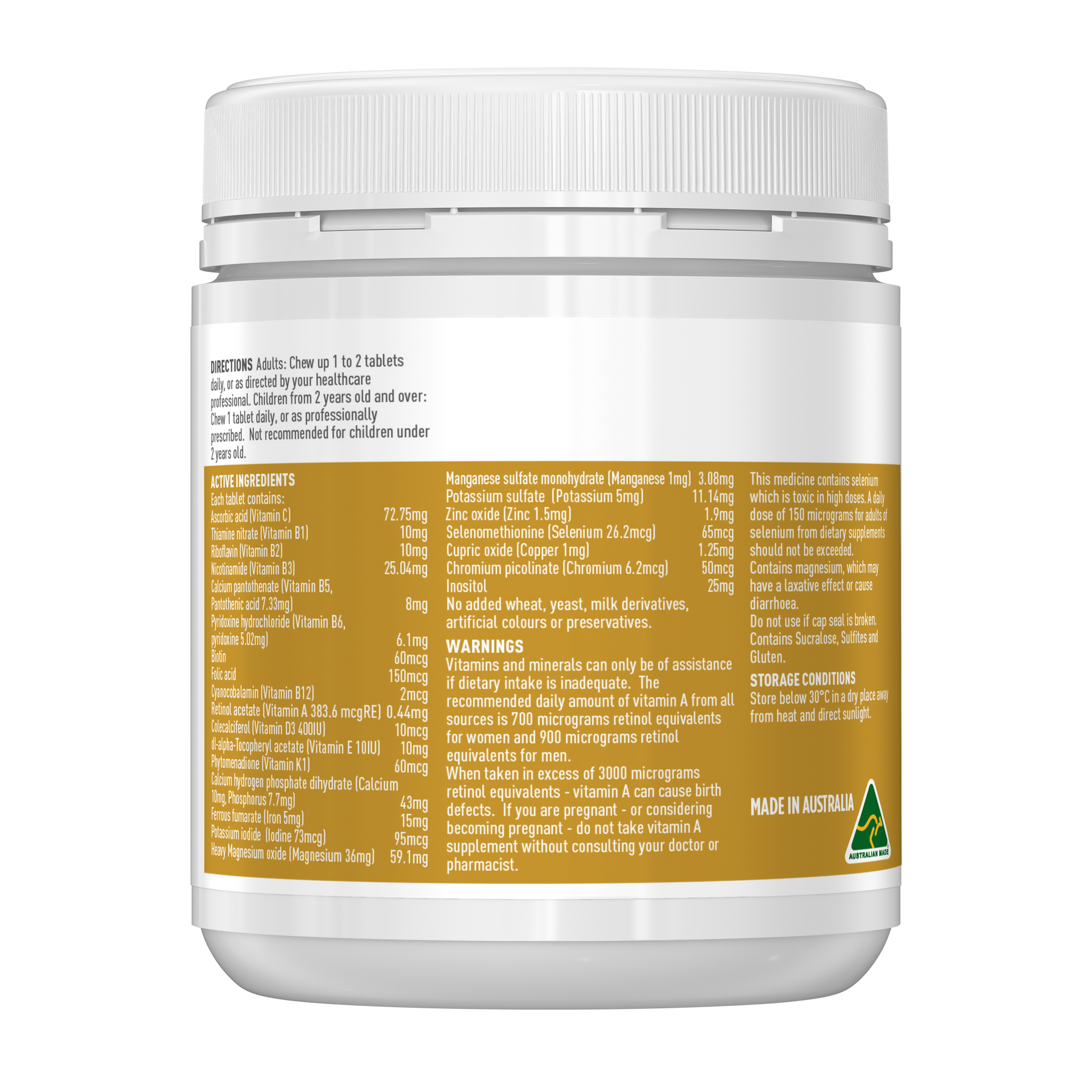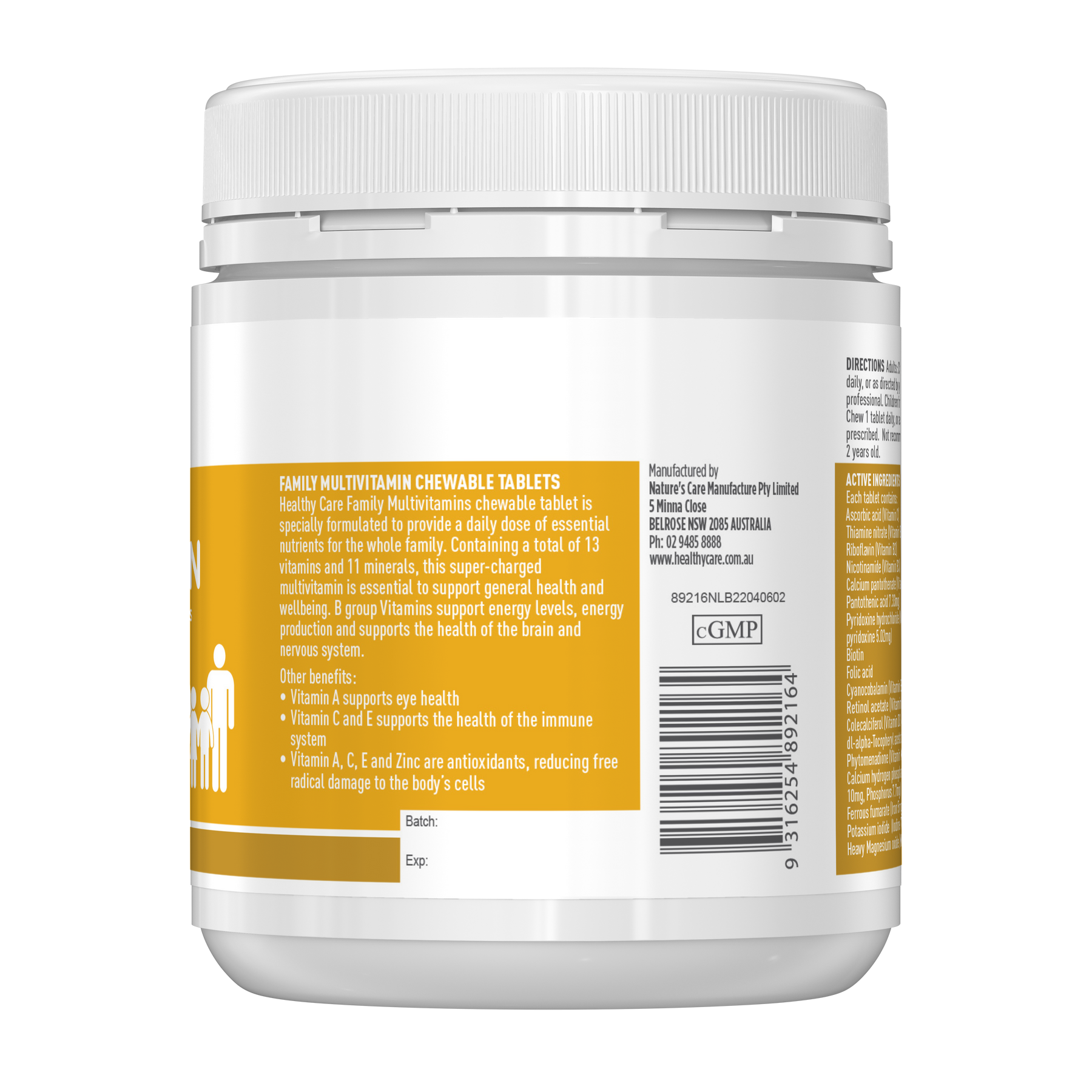 Healthy Care Family Multivitamin 200 Tablets
Get additional 15% discount when you checkout at least 3 items and 20% if 5 items! (any product).
REWARDS - 1 point for every $1 spend
Healthy Care Family Multivitamin is specially formulated to provide a daily dose of essential nutrients for the whole family. Containing a total of 13 vitamins and 11 minerals, this super-charged multivitamin is essential to support general health and wellbeing. B group Vitamins support energy levels, energy production and supports the health of the brain and nervous system.

- Vitamin A supports eye health.
- Vitamin C and E supports the health of the immune system.
- Vitamin A, C, E and Zinc are antioxidants, reducing free radical damage to the body's cells.


ACTIVE INGREDIENTS Each tablet contains:
Ascorbic acid (Vitamin C)                                                 72.75mg
Thiamine nitrate                                                               10mg
Riboflavin (Vitamin B2)                                                    10mg
Nicotinamide (Vitamin B3)                                               25.04mg
Calcium pantothenate (Vitamin B5,
Pantothenic acid 7.33mg)                                                8mg
Pyridoxine hydrochloride (Vitamin B6,
pyridoxine 5.02mg)                                                          6.1mg
Biotin                                                                                60micrograms
Folic acid                                                                          150micrograms
Cyanocobalamin (Vitamin B12)                                        2micrograms
Retinol acetate (Vitamin A 383.6micrograms retinol
equivalents)                                                                      440micrograms
Colecalciferol (Vitamin D3)                                               10micrograms
dl-alpha-Tocopheryl acetate (Vitamin E)                          10mg
Phytomenadione (Vitamin K1)                                          60micrograms
Calcium hydrogen phosphate dihydrate (Calcium
10mg, Phosphorus 7.7mg)                                                43mg
Ferrous fumarate (Iron 5mg)                                             15mg
Potassium iodide (lodine 73micrograms)                          95micrograms
Heavy Magnesium oxide (Magnesium 36mg)                   59.1mg
Manganese sulfate monohydrate (Manganese 1mg)        3.08mg
Potassium sulfate (Potassium 5mg)                                   11.14mg
Zinc oxide (Zinc 1.5mg)                                                      1.9mg
Selenomethionine
(Selenium 26.2micrograms)                                               65micrograms
Cupric oxide (Copper 1mg)                                               1.25mg
Chromium picolinate
(Chromium 6.2 micrograms)                                             50micrograms
Inositol                                                                              25mg

Adults: Chew up to 2 tablets daily, or as directed by your healthcare professional. Children from 2 years old and over: Chew 1 tablet daily, or as professionally prescribed. Not recommended for children under 2 years old. 

Disclaimer: Always read the label and follow the directions for use.  
Store below 30°C in a dry place away from heat and direct sunlight.
Vitamins and minerals can only be of assistance if dietary intake is inadequate. The recommended daily amount of vitamin A from all sources is 700 micrograms retinol equivalents for women and 900 micrograms retinol equivalents for men. When taken in excess of 3000 micrograms retinol equivalents - vitamin A can cause birth defects. If you are pregnant - or considering becoming pregnant - do not take vitamin A supplement without consulting your doctor or pharmacist. The medicine must not be directed for use in infants younger than 12 months of age. Stop taking this medication if you experience tingling, burning or numbness and see your healthcare practitioner as soon as possible. [Contains vitamin B6].

Contains Sucralose, Sulfites, Soya bean products and Gluten.

This medicine contains selenium which is toxic in high doses. A daily dose of 150 micrograms for adults of selenium from dietary supplements should not be exceeded. Contains magnesium, which may have a laxative effect or cause diarrhoea.
Standard Parcel Post
We aim to dispatch standard parcel post orders within 48 hours. The estimated delivery times are:
- NSW, ACT: 2 - 4 working days.
- QLD, VIC, SA: 5 - 6 working days.
- All of WA, Tasmania and regional areas of all other States: 7 - 10 working days.

Express Post
Express orders will be dispatched within 24 hours. The estimated delivery times are:
- NSW, ACT: 1-2 working days.
- QLD, VIC, SA: 2-3 working days.
- All of WA, Tasmania and regional areas of all other States: 5-6 working days

For orders placed over a weekend, they will be sent out over the following business days (Monday-Friday).